BOOK YOUR APPOINTMENT TODAY!
WHY CHOOSE KADRI DENTAL?
Your smile is the most noticed feature about you and your dental team can make our dream smile come true! We have over 10+ years of experience and we take a patient focused approach to make sure you receive your own customized dental plan! Here at Kadri Dental, we have a friendly and caring team that will make you feel comfortable and help you achieve your dream smile. Come visit our modern dental clinic in LaSalle Ontario and let our dentists and dental team look after all your dental needs!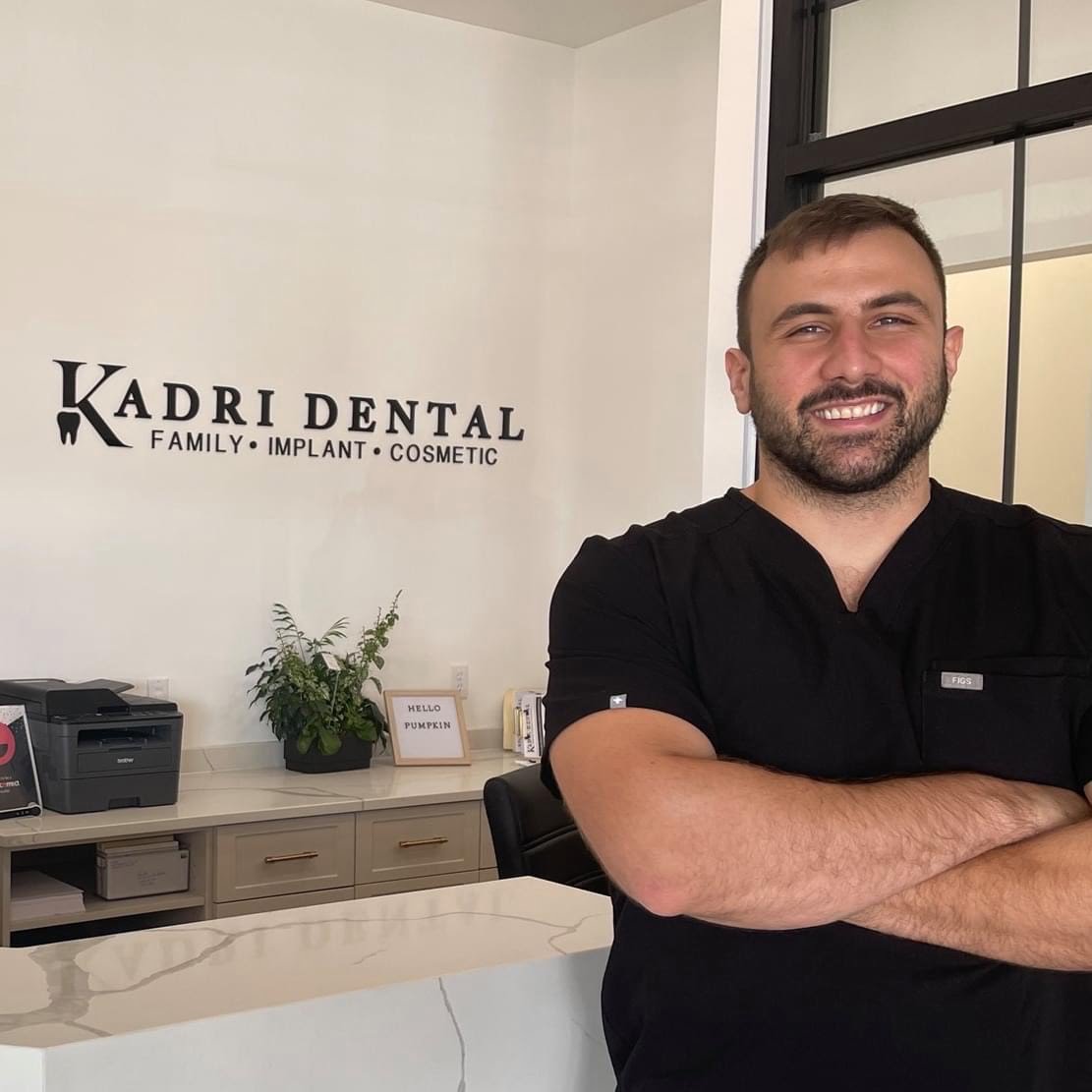 MEET DR. KADRI!
With over 10+ Years of experience serving the Windsor & LaSalle Ontario areas, Dr. Kadri is passionate about helping patients achieve their dream smile. He tailors his dental approach to personalize it for each patient and is qualified and certified for a wide range of dental procedures such as dental implants, Invisalign, Wisdom Teeth Removals and much more! Would you like to meet Dr. Kadri? Request a consultation with Dr. Kadri either online or by calling our office at (519) 962-9222
WHAT OUR PATIENTS SAY ABOUT US
Amazing experience. Dr. Kadri and staff were so polite and easy going. Service was top tier, and I also enjoyed his explanation to everything that he did. My wife and I have seen a few dentists due to travelling across the province for work, but our best experience was here with Dr. Kadri !

Sammer Hedjazi


Dr. Kadri and his staff are amazing! Dr. Kadri is kind, caring and compassionate. I've always been anxious going to the dentist but he really makes me feel at ease! My 3 and 5 year old children have also been to him and he was great with them. He even followed up in the evening after my son needed an extraction to see how he was doing, he's super thoughtful! I would definitely recommend Dr. Kadri!

Melissa Heuchan


We have always had a great experience. Dr. Kadri listens to concerns and follows through with appropriate care. He takes the time to listen to my children and asks about their activities. A very caring Dentist. My children have never had a bad experience either. Dr. Kadri is excellent at his craft and skilled beyond skilled!

Leanne


I recently had a dental implant completed by Dr. Kadri. He provided reassurance and thorough explanations throughout the entire process. Dr. Kadri was extremely professional and approachable. I felt very comfortable throughout this process and I look forward to future visits. I highly recommend him to anyone – great service and great location!

Carm Iannicello


I am beyond grateful for Dr. Kadri and the staff at Kadri Dental! He is knowledgeable, professional, and caring, and I could not ask for a better Dentist! Dr. Kadri always communicates during every step of a procedure making sure that I am comfortable and relaxed. The staff are all exceptional and the facility is state-of-the-art! I HIGHLY recommend Kadri Dental!!

Kimberly Smith


Dr. Kadri really cares about his patients and he takes great pride in his work. He's always pleasant and welcomes any and all questions. The staff is welcoming and friendly. Although I still get nervous about going to the dentist, he and his staff are able to put me at ease. I'm very happy with the high level of care that I've received and feel fortunate to have him as my dentist.

MCatL


Dr Kadri and Noor did a fantastic job on my teeth. They were both meticulous and thorough with the process. They let me know everything that was going on during the process and did everything the proper way. I was referred to by a friend and everyone I asked about him said he was great. They have the best tech and tools to work with. Two things that are difficult to find are a good barber and a good dentist, and now I have both. Thank you again.

Allen Nassoni


Very professional and friendly dentist. Perfectionist with his work, even smoothed out old fillings by another dentist. Always accommodating to my schedule since I'm from out of town and had bad experiences with dentists in my new city. Has done many procedures and have had no issues. Staff is super friendly and helpful on phone and in person. Highly recommend.

Alaa Althabteh


Hands down Dr Kadri and his staff are the best dental clinic anywhere. I have had several root canals and other surgeries along with routine cleanings and check ups and Dr Kadri has been gentle and caring in the procedures. I recommend him to anyone looking for a great Dentist. And I never feel the needle when he freezes.

Cary Wheeler


If I could give 10 stars I would without hesitation. I had surgery with Dr Kareem Kadri The doctors and staff at Kadri dental were wonderful, friendly, caring , professional . Dr.Kadri is just the Best Dentist, and I Highly Recommend him. He is very knowledgeable, very gentle and gives the best gum surgery . ! After surgery they also conducted follow ups to make sure I was ok.. I really appreciated that.. I couldn't ask for nicer people.. I knew none of them.. They treated like I was a priority, and one of their own. A big thank you to the Doctors, nurses, at Kadri dental.

Salim K


Over the past few years I have been a patient with Dr.Kadri and I've never been happier with my smile. Dr. Kadri has completely transformed my teeth and I've never had a better experience at the dentist. Friendly and helpful staff . I highly recommend Dr.Kadri. He and his staff were just amazing with my 4 year old daughter . We love coming here . Thank you for all that you've done for our family!

jessica urquhart


I had an amazing experience with Dr. Kadri. He explained all the treatments and provided me with pain free service. The staff is very friendly and welcoming. Dr. Kadri and his amazing staff were incredible. I could not recommend them higher to my friends and family. He provided excellent service and I will be coming here for my future dental needs!

Doua Bondok


ALI MOHAMED So pleased with Kadri Dental was able to save my ailing teeth. Dr. Kadri has been my Family's dentist for over a decade. My teeth needed extensive work done . The procedure went better than I expected and I was put at ease with Dr Khadri's professional amazing skills. I can smile again Thanks to Dr. Kadri. Dr. Kadri is a great dentist and is highly knowledgeable and compassionate . Also, I'd like to mention the wonderful service, provided by the reception team there, and all clinical staff are always friendly professional staff, very helpful, and welcoming. best of luck at Kadri dental!

Ali Mohamed


I am really happy I found Dr. Kadri. My son (4 yrs)had cavities and was seen by another dentist that told us he would have to be put to sleep in order to do the filling. After taking him to Dr. Kadri, he provided us with the ease of mind that he would do the necessary procedures and ensure my son will be in good hands and that he wouldn't need to be put to sleep. From start to finish, everybody in the clinic was exceptionally nice, considerate and helpful. My child who was extremely nervous going in came out with a smile and a positive experience!

Ali Yafai


Dr Kadri is quite honestly the best dentist I've ever seen. He is incredibly knowledgeable, meticulous, and thorough and makes sure his work is top notch. He takes pride in what he does. On top of that, his bedside manner is outstanding and you can always expect a nice chat or a good laugh when you go in for your visit. The entire staff is very friendly and helpful- which makes the dental experience all around pleasant.

Casey Taylor


Dr. Kadri did my implant and crown and as with all the work he has done for me, the fit and feel of my new tooth is perfect. I also value his overall medical knowledge as I have an autoimmune disease affecting my oral health and his particluar background and training make him the ideal dentist for my situation. He is an excellent dentist and has surrounded himself with quality staff. If you are looking for a new dentist look no further.

Mark


My family and I have been going to Dr. Kadri for a few years now and he's an excellent dentist. He's an amazing man with a great sense of humour and will always make sure you're feelings comfortable with the procedure. Dr. Kadri and his staff will always put you first and I would definitely recommend.

Nora Jahn


Our experience with Dr Kadri has always been exceptional. He is an extraordinary dentist who take great care with his work. I have children with special needs who once hated the dentist and now love it because of Dr Kardi. He's gone to great lengths to meet their needs. He puts his patients needs first and is a perfectionist when it comes to his work and it shows.

Colleen Coleman


Dr. Kadri is a wonderful dentist. My husband and I have been seeing him for five years now and followed him to his new practice. He's positive, warm, enthusiastic, caring and has a good sense of humour. He'll always explain what he's doing and why he's doing it. His staff are lovely too. I've sent several friends to him in the past few years and they all love him too.

Dana Ménard


Five stars aren't enough to rate this dentist he deserves ten atleast!!! Dr. Kadri is the most talented, personable and caring dentist I have ever known. He takes his time and always does his best work every single time I have seen him for any dental issues, and I've had many complicated ones over the years. He makes you feel so comfortable and I never fear the dentist anymore because I trust him and know that I am in good hands. He always reaches out to check on you, I mean who calls their patients on days off to see how they are doing? I don't know of any professional who cares as much as this dentist does. If you are afraid of dentists, or looking for a new one give Dr. Kadri a call you will not be disappointed.

Shelley St.Julian


Dr Kadri is the man! He is excellent at what he does, always takes care of any dental problems I have and I leave confident that my issues are resolved and any pain I may have had is gone. He takes pride in his work and is a perfectionist. Makes you feel so comfortable and I completely trust him. He is an easy going really cool guy and a very skilled dentist.

Kimmo Suurnakki


While there are other good dentists in the Windsor region, Dr. Kadri is indisputably the best! I've been with Dr. Kadri for nearly 5 years and he somehow makes going to the dentist the highlight of my week! Dr. Kadri is so genuine with all his patients, and is a true pleasure to talk with even when you are lying down in the chair. He treats us all like family and goes the extra mile to make sure our needs are taken care of. When I had to get a wisdom tooth removed, the process was quite long and painful due to my tooth being in an obscure angle. Dr. Kadri gave me his personal cell number after he finished the removal. He even checked up on me later that night to see how I was doing and said to pop in anytime if I thought something was wrong. I mean who does that, like seriously! Staff are always so pleasant and it's easy to see that Dr. Kadri brings so much energy and enthusiasm to the office every single day! If I could give anything higher than 5 stars I would in a heartbeat. If you haven't been and are looking for a new dentist, this should be your number one choice.

Tyler Santilli


Dr. Kadri has been more than amazing to my family. He is an excellent dentist and goes above and beyond for his patients. He always makes sure we are comfortable and is very good with my son. The staff is also so helpful. They are always so joyful and answer any questions you may have promptly. I am so happy we found a dentist office who cares.

Caitlynne Lucier


We are sooo glad we were able to hook up with Dr. Kadri again. His care, his knowledge, his sense of humor and positive attitude makes the visits a pleasure. To those looking for excellent dental care please use Dr. Kadri. The whole visit, right from reception to all the specialists is an amazing and pain free experience. We wish him many years of service in his new location at Malden Center in LaSalle. John n Debbie

John Crazytrain Lawley


For starters I am from Toronto Ontario and the dentist from Toronto are not the greatest. It seems that they never learned how to do a filling in dental school. I had problems after problems after my first fillings, even after changing dentist no luck. However my friend from university told me to go see his cousin (Kareem). I trust my friend because he is a dentist in the states. Let me tell you, he fixed pretty much everything. He fixed my teeth that a specialist wanted to remove. He is amazing and I finally found a good dentist. Driving to Windsor from Toronto to see him is worth it, if you don't want any pain when you eat or floss.

TMA TMA


Dr. Kadri is by far the BEST DENTIST IN WINDSOR! I have followed him to multiple locations after many poor experiences with other dental offices. Happy to see him opening his very own office! I can't say enough good things... He treats every patient like family and does personal follow ups and even makes sure your not overcharged! Seriously who does that?! He never makes you feel embarrassed about your smile... and mine was pretty bad. Rather than pulling more teeth he has helped me save what I left. I can smile again! He's even got my husband going back to the dentist again! We are both no longer in any pain and look forward to the end results. We are also discussing implant options for my spaces to stop my gums from reseeding any more. It's so nice having found a young dentist that is on top of new technology so you can rest assured that your entire family is in good hands for the long run. Thank you Dr Kadri!! I have my smile back and it feels great!

KevnLinz B


Hands down one of the best dentists in Windsor, very experienced and reliable. Some of the best bedside manners and always smiling. He looked after the whole family and and was able to handle all aspects from surgeries to infections and regular cleaning His rates were also very accommodating and reasonable even when I didn't have coverage. I will definitely continue using his services.

Tareq Abu-Kaud


Dr.Kareem kadei he is the Greatest. He help me out so much put trust into a person that I had no trust in from the beginning and Now I have all the trust in him and All the confidence in the world Now that I go back to see him And have more work done on my teeth I love going to see him. he's reassuring and Confident and relaxed and everything will be OK. He is a really Friendly and down to earth person and Judge is nobody. If I could rate him the stars I would give them all the stars in the galaxy. You are the Best and Everyone should go and see him Thank you!! again For everything you Have Done for me you're the best there's no word about it have a good day!!!! 😃

dale nantais

@kadridentist Follow up on social media to learn more about our promotions and to receive great tips and tricks for keeping a healthy smile!